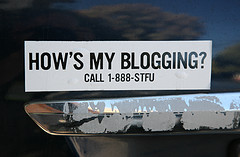 Okay, so you're sold on the value of having a blog for marketing purposes. In fact, as a B2B marketer, you have probably been at the blogging game for three or four years now.
But how have social media changed the way you blog? Are you getting everything you can out of your corporate blog? What are the latest tips and tricks needed to turn your blog into the backbone of your content marketing strategy? Do your Twitter and Facebook followers read your blog?
We'd like to hear from you in our upcoming live Twitter chat, June 23, 2011. Follow the #B2Bchat Twitter stream starting at 5:00 p.m. Pacific where we will discuss Blogging in the Social Media Ecosystem.
Questions will include:
Q. How do you come up with good topics to blog about?
Q. How often should you blog?
Q. What are the most useful blogging plugins?
Q. Should your blog content feed into your social channels, e.g. Facebook, Twitter, LinkedIn?
Q. How would you describe a good blog commenting strategy?
Q. What are the best ways to leverage existing blog content with social channels?