As I write this, thousands of us search marketing folks around the globe are packing our bags and getting ready to swoop into San Jose, California for the largest search engine strategies conference of the year, known by the industry simply as SES San Jose. Our company has been a part of these conferences for some time, but each show is a mixture of old and new. And for many of you who may be attending SES San Jose for the first time, here is something you may just want to bookmark and read during some downtime in the airport:
My SES San Jose Survival Guide
1. Follow the SES San Jose hashtag #sessj on Twitter. You will find a lot of great people there. And if the hashtag isn't enough, here are two Twitter accounts you'll want to follow right away: @matt_mcgowan and @SESConf.
2. Become a fan of the Search Engine Strategies Conference & Expo Facebook page. They currently have 503 fans and counting.
3. Join the SES LinkedIn group: over 8,500 members and counting.
4. Subscribe to the SES YouTube Channel. You'll find over 300 videos which have been posted over the past couple of years.
5. Flip through the July 2009 edition of the SES Magazine. There will undoubtedly a lot of these to be found at the conference itself, but you may not have known that they also have an online version.
6. A closer look at the SES San Jose conference agenda. I won't reveal my favorites in this post, but take a look at these buzz words, courtesy of wordle.net: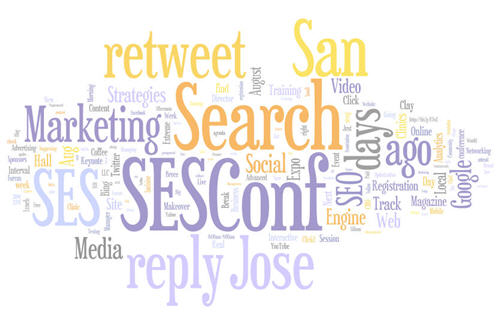 7. Watch SES San Jose social media metrics on socialmention.com.
8. Check out the Search Engine Strategies blog.
9. For more official PR material, take a look at the SES press room.
and, last but not least…
10. Don't forget to pack good walking shoes, a generous stack of your business cards, and an RSVP to the WebmasterRadio.FM Search Bash Tuesday night.
Have I forgotten anything? Please let me know by leaving a comment below!